---
---
By Kelundra Smith for ArtsATL
August 24, 2018
---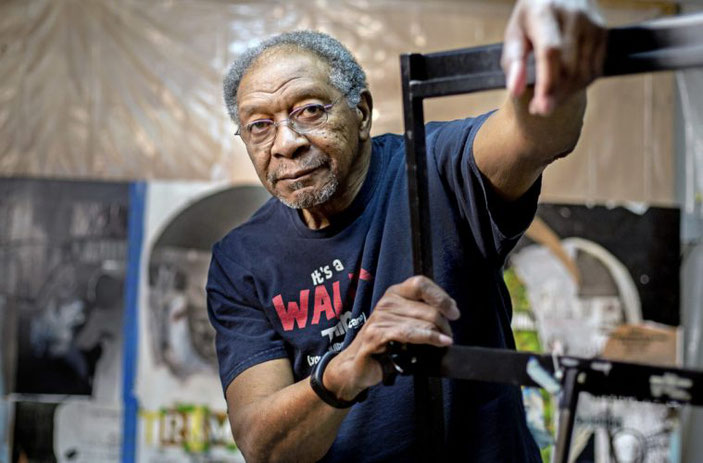 Larry Walker, by Jerry Siegel, 2018
---
Larry Walker discovered his love for art at seven years old while listening to The Lone Ranger and The Shadow on the radio and drawing what he imagined the characters would look like. Born in Franklin, Georgia, Walker moved with his family to Harlem during the Great Migration in the 1930s. Over the years, he immersed himself in the work of Rembrandt, Cézanne, Rauschenberg and Thiebaud, and today, at 83 years old, he is still drawing, painting and making collages that simultaneously comment on current events and transcend them.
Walker spent most of his career in arts education, first teaching in the Detroit Public School System and then moving into higher education at the University of the Pacific in California. He ultimately retired in 2000 from Georgia State University, where he was the director of the School of Art & Design. In addition to passing on a passion for the arts to his students, he also shares it with his children: artist Kara E. Walker, photographer Dana Louise Walker-Juick and Larry M. Walker, Jr., a tax accountant.
This year, the Museum of Contemporary Art, Georgia (MOCA GA) has curated a two-part retrospective of his work and published a full-length book titled L. Walker featuring work from the exhibitions. Larry Walker Retrospective: The Later Years runs through October 27.
To prepare for the retrospective, Walker collaborated with the staff at MOCA GA, sifting through hundreds of past pieces in addition to creating new work. ArtsATL caught up with Walker to gather some reflections on his longevity and his thoughts on finding new pathways to creativity.
---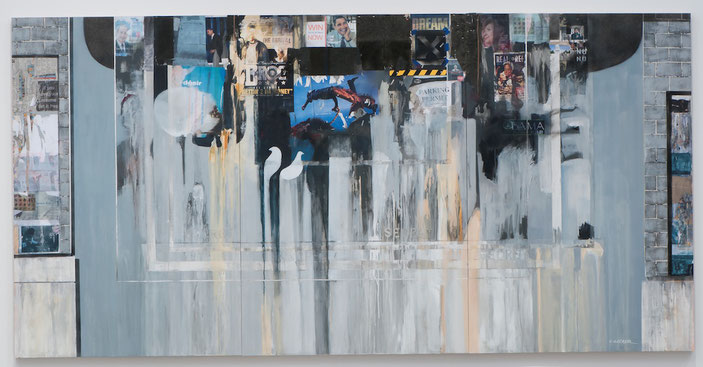 Larry Walker, Wall Secrets and Other Secrets: Believe, 01.20.09, 2008, mixed materials, acrylic, latex, paper and Georgia granite on birch plywood, 72″ x 144″, part of the MOCA GA Permanent Collection (Photograph by Michael McKelvey)
---
ArtsATL: When did the multimedia collages start in your work?
Larry Walker: It started in the '70s. I called it the Remnant series because I would take a little piece of magazine paper or newspaper and laminate it in with the painting. That led to another series called the Truck series [inspired by things you would expect to see drawn on the back of a semi truck]. People come along and draw tic-tac-toe signs, hearts or "wash me," you know. Then, in 1982, I went back to New York and retraced the steps I took as a kid. . . . That led to the Wall series — people put up posters about events taking place, wanted signs or to find lost things. Over time, those things get wet and they peel, and other people put things on top of them, and it forms this buildup on the surface. Mankind has a way of defacing a surface that's sitting there waiting to be defaced. 
The Wall series is still going, and in more recent years, a shadowy figure walking past that's not paying any attention to the wall has been introduced. The shadows represent people who live on the peripheries of life, someone who is old and has all of their belongings in a bag on their backs. One or two of the figures turned out to be me. The other thing that has happened is the development of what I call wall spirits, because when you look on the surface, there's something that looks like a bird, and they're popping up all over the place.
---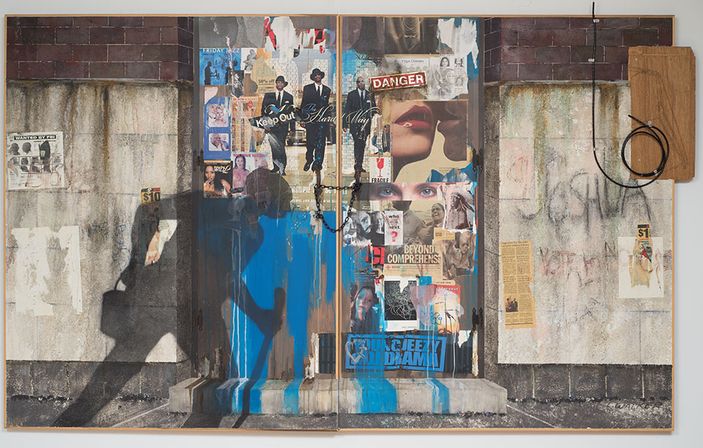 Larry Walker, Joshua's Door: Urban Sanctuary, 2006, acrylic,
mixed materials and processes on panel (Photograph by Michael McKelvey)
---
ArtsATL: In terms of subject matter, it seems like a lot of your work is inspired by the landscape of New York and pop culture, especially as it relates to the content of the posters. Do you think the decline of print media will affect your work?
Walker: I never thought about that. Before I started using magazines and posters, I used paint, and that can always function. I also use photographic backdrop paper, roofing paper and a material called flex seal. I use plexiglass, spray paint — the painting is not fully dependent on posters, and the imagery in them is not something I depend on. I use them for color and texture more than content. It's easier to get a movie poster because the theaters tend to give them out, and peeling them off the walls got a little messy. . . . Some work is more political, another work might be existential, something else might focus on a disaster event that happened in the world.
ArtsATL: You spent most of your career in academia. What do you like about teaching? What's your teaching philosophy or mantra?
Walker: I taught drawing, painting and art education throughout my career. I like the idea of helping people reach a creative goal. The exchange of ideas is exciting, and seeing someone develop and grow is a joy. My philosophy is not to impose your own ideas on a person so that they become a duplicate of who you are. You're to encourage them to become more of who they are.
---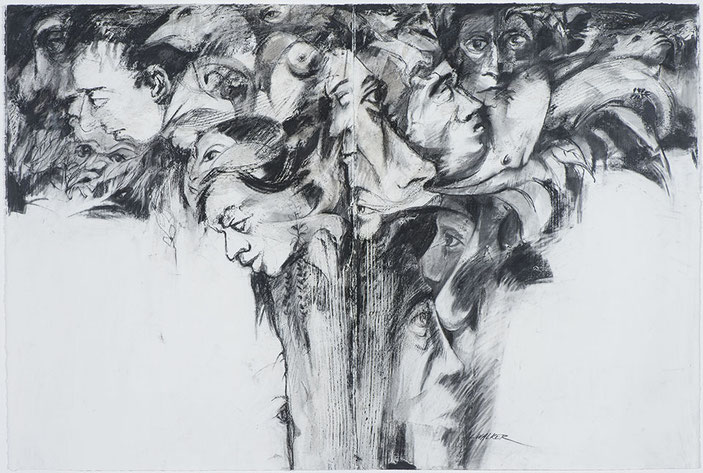 Larry Walker, Transformation Organic Fusion, 2010, charcoal and Liquitex texture gel on
300 lb. D'Archer watercolor paper, 35.75″ x 50″, on loan from Larry Walker (Photograph by Michael McKelvey)
---
ArtsATL: What are you working on right now?
Walker: I just finished a piece last week that I took off to the framer for the exhibit because I wanted to make sure there was a piece from 2018. It's called Have You Seen Us?/Immigration Plan No. 2018, and it's more of a collage than it is a painting. You know the pictures you see in a magazine of a kid that says, "Have you seen me?" and there's a progressive image of the kid of how he looked when he went missing and how he would look now. I strung those across a canvas with a profile of President Trump.
I've also been working on a series of small paintings inspired by the interior wall of the Domino Sugar Factory in New York that go together in groups of three or four. It's an extension of the Wall series. It had been vacant for years, and someone bought it to build condos, but before they tore it down, this organization created a project. Inside the walls, it smells like molasses, and it's dark and gloomy. The walls inspired me to do a series.
You don't have to sit around and wait for something to inspire you to get fired up. The job of the artist is to create art. It's a wonderful experience. It's not something you do for the love of money, because money is not the end goal, and neither is recognition.
---