---
By Gail O'Neill for ArtsAtl
May 26, 2015
---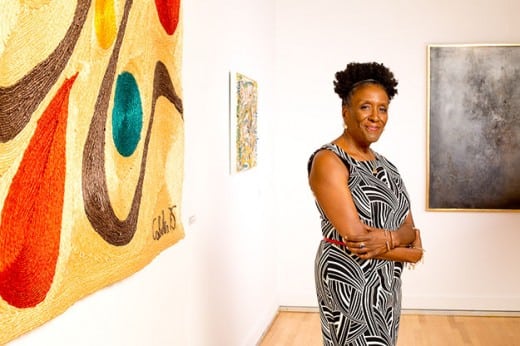 Tina Dunkley built the collection of Clark Atlanta University Galleries 
from 291 piece to more than 1,200. Photo courtesy Clark Atlanta University.
---
Nothing about Tina Dunkley's bearing suggests her status as a recent retiree. To the contrary, when the curator emeritus of Clark Atlanta University Art Galleries enters the exhibition space in Trevor Arnett Hall, the force field surrounding her crackles with energy — invigorating everything and everyone in her path; generating buzz.
She greets a student/receptionist on duty with "Gimme a Hug!" And her enthusiasm only escalates as she talks about the importance of visual literacy and the cultural language of art while leading a tour through the gallery's permanent collection.
"When I was an undergraduate at the School of Visual Arts in New York in the '70s," she explains, "my professors knew of no artists of color who'd contributed to the canon of great American art."
Fortunately, the gaping hole in her education was filled in 1979 while doing research for a master's thesis on African American Folk Medicine at Clark's library. Stepping away from her studies for a bathroom break, Dunkley stumbled across paintings, sculptures and mixed-media installations — housed in the basement of the facility — that had been acquired by Hale Woodruff through a juried competition called the Atlanta University Art Annuals.
Established in 1942 to cultivate, chronicle and encourage scholarly research on the visual narrative of African American artists, the collection had been dormant for nearly 10 years by the time Dunkley discovered it, though she immediately intuited its value. One year later, she was named curator.
---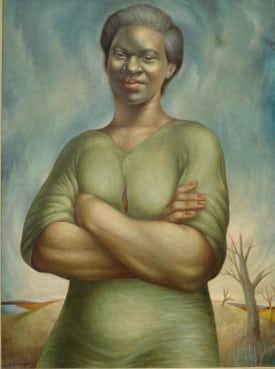 Charles White: To the Future, 1953.
Collection Clark Atlanta University Galleries.
---
Her first order of business was taking inventory of the 291 pieces. Among the contents were what Dunkley describes as "the Mona Lisas of the collection" — including James Reuben Reed's Depressed (1950), and Charles White's To the Future (1952).
Operating on a budget Dunkley recalls as "absolutely approaching not enough," she managed to grow the museum's holdings to 1,200 pieces during her tenure — including works by contemporary Atlanta artists Fahamu Pecou, D.E. Johnson and Sheila Pree Bright. Bequests from patrons like James Baldwin and Benny Andrews rounded out the collection, as did works donated by Dunkley's longtime mentor, the late author and cultural historian Richard Long. In keeping with Woodruff's vision to be inclusive, Dunkley also acquired work by non-African American or diasporic artists such as Lucinda Bunnen, Larry Rivers and Alexander Calder.
Says Atlanta artist Freddie Styles, who participated in the last five years of the Annuals, Dunkley's efforts to "elevate the collection from the squalor of the basement to the former reading room of the library" was monumental and largely single-handed.
"If the administration could get on board with just a fraction of the love, care and appreciation for the collection Tina has demonstrated, it will be in excellent hands," he says.
She raised the collection's profile rough a national exhibition, To Conserve a Legacy: American Art From Historically Black Colleges and Universities, whose tour included the Studio Museum of Harlem, the Art Institute of Chicago and Corcoran Gallery in Washington, D.C.
Other career milestones include spearheading a successful fundraising campaign to renovate Clark's gallery space in anticipation of the 1996 Olympics, producing an art exhibition for the Cultural Olympiad and co-authoring a catalogue with ArtsATL writer Jerry Cullum, In the Eye of the Muses: Selections From the Clark Atlanta University Art Collection.
---
---
Yet for all her professional triumphs, Dunkley, who was Georgia State University's art gallery director between 1987 and 1994, finds the same questions persist today that dogged her as a student. How are our opinions about art shaped? What do we value and what do we discount? And who gets to decide?
Ironically, while academics have come a long way in recognizing the cultural significance of Clark's fine art collection, it remains a buried treasure for locals.
"I don't think Atlantans appreciate the gift of Hale Woodruff's collection, and many don't even know about it," Styles laments. "I think it's criminal that the university does not require every student to tour and acquaint themselves with what we have in our midst."
Dunkley concurs. "Every day I watch students pass Trevor Arnett Hall without pausing to see what's inside," she says, shaking her head. "But when they do, they are invariably shocked and always say the same things: 'I can't believe this is here! Is this exclusive to art majors? Why are you keeping it a secret?'
---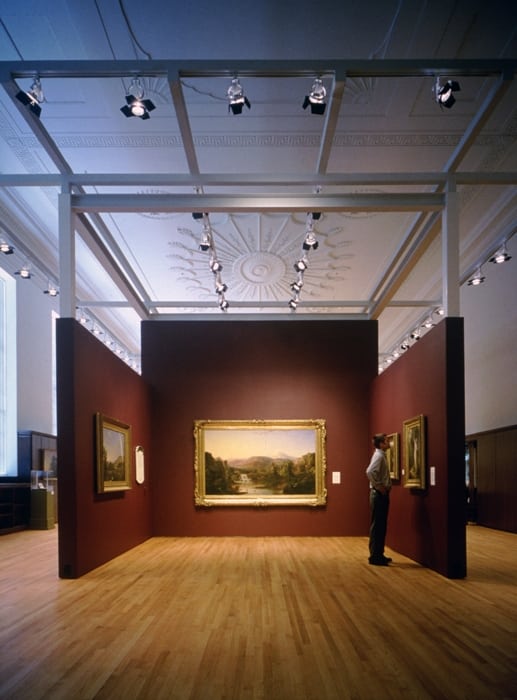 Tina Dunkley spearhead a gallery renovation 
by Mack Scogin Merrill Elam Architects prior to the 1996 Olympics.
---
"We have an important brand, but these collections cannot go forward without the unequivocal support of the administration and board," she says. "We have to recognize that we have gold in our possession. We have to claim it. Promote it. State that it is important.
"More importantly, we have to engage our students and faculty in a way for them to see this as a learning resource."
The granddaughter of John Dunkley (1891-1947), a patriarch of Jamaican art whose work hangs in Kingston's National Gallery, the younger Dunkley has maintained a professional career as an artist throughout her tenure. She has danced with Katherine Dunham's troupe, trained as a sculptor and is a talented songstress. (Her passion is singing in Portuguese, and she does not discount the possibility of recording an album of Brazilian classics post-retirement.)
Dunkley is also planning a multi-media exhibition about the war of 1812 that will explore the genealogy of her family, which has paternal roots in Jamaica and maternal ties to Trinidad.
"My artwork," she explains, "is being influenced by the full-circle recognition of my ancestors' journey through slavery five generations ago."
Dunkley plans to stick around Clark long enough to usher in the new curator. When asked what advice she'll have for whoever is selected to fill her shoes, a knowing smile spreads across Dunkley's face.
Nodding slowly, she murmurs, "Be strong, and know how to stay the course."
Then, in a flash, her quicksilver laughter erupts as she adds, "And know when to cut loose… which is what I'm doing!"
---
Click here to read the original article on ArtsAtl.com.